1
« Last post by DzikiZdeb on Today at 12:57:23 pm »
A "zawód treściowy" miałem jeden generalny i dość banalny: gdzie mianowicie są na monetach te świadectwa nawrócenia Konstantyna? Gdzie ta chrześcijańskość pierwszego chrześcijańskiego cesarza?

O..o..o...właśnie o takie zawody mi chodziło :-) Co do Bizancjum to też trochę w tym kierunku dryfowałem, tyle że bardziej ogólnie i zawiodłem się na nieczytelności legend. "Takie cesarstwo z tradycjami, to przecież rozczytam o jakiego władcę chodzi, skoro już jako tako radzę sobie z cesarzami rzymskimi". A tu pospolitość skrzeczy - i przeciętna moneta ma pół legendy niedobite, a pół wytarte, coś ja tutaj: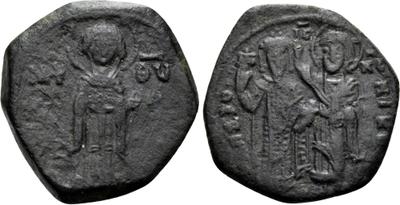 Gdybym zaczynał od dużych asów czy sesterców to może bym sobie na nich wyobrażał różne dziwy, ale ja tak na poważnie zaczynałem od brązów c. 20 mm.

Ja zaczynałem od 20-milimetrowych denarów i w głównej mierze na nich utknąłem, a mimo ich wielkości dość dużo po nich oczekiwałem. W końcu skoro udało się tam wsadzić kolumnę Trajana czy Aqua Marcia (to za czasów Republiki):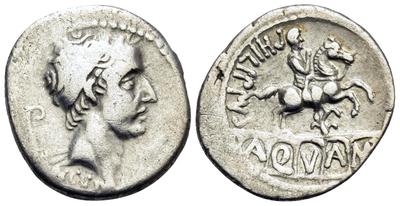 to czemu nie inne obiekty?
Dodatkowy zgryz miałem z panującymi - skoro nie ma żadnego problemu z kolejnymi cesarzami z II wieku, to czemu nie można łatwo znaleźć np. denara z panującymi czternaście lat Klaudiuszem? Albo z Juliuszem Cezarem, skoro taką władzę zgromadził w ręku?
Ale ta abstrakcyjna dawność nawet dzisiaj jest odświętna i jakby słabo angażująca (właśnie przez swą abstrakcyjność). Tysiąclecie było hucznie świętowane głównie dlatego, że był to element pojedynku Gomułka-Wyszyński. Ale już niedawne 1050-lecie właściwie przemknęło gdzieś na marginesie.

Ciężka sprawa porównywać sytuację z 1966 z tą z 2016, a co dopiero szukać analogii w antyku. Te współczesne rocznice wyglądają wszystkie tak samo blado i nie wiem, na ile mieć pretensje do rządzących, że nie wprowadzili walk gladiatorów na placu Piłsudskiego albo innych wymyślnych fajerwerków, a na ile wynika to z ogólnej społecznej znieczulicy na tematy historyczne. Zabiegany obywatel patrzy tylko jak tutaj zawieźć dziecko na kolejne lekcje fechtunku na lodzie po portugalsku, a tu mu je odwołują przez jakieś tam święto państwowe. Jak to się ma np. do podniosłych uroczystości pięćsetlecia Grunwaldu, kiedy w najmniejszej galicyjskiej Wólce potrafili zrzucić się na kolejny pomnik (tak, tak, za Franza Josefa to było, nie to co teraz).
To, że takie odwoływanie jest nieco niecodzienne i uroczyste, nie przeszkadza w tym, żeby było umieszczane na monetach - inaczej skąd by znajdowały się na nich te wszystkie greckie ery? Przecież duża część rewersów rzymskich monet właśnie jest pompatyczna - czym różni się umieszczenie odwołania do AVC od "ROMA AETERNA", "FEL TEMP REPARATIO" czy innych "SAEC[vli] AVR[ea]"?
A niech Pan zobaczy, ile komentarzy jest wokół filmu o Gierku. Bo "za Gierka", "za Gomułki", "za Bieruta", "przed wojną", to jeszcze wciąż są czasy, które ktoś pamięta albo pamięta to, co opowiadali mu o nich rodzice lub dziadkowie.

Abstrahując od tego, że uważam w/w film za jakieś kompletne kuriozum, a sporą część komentarzy za wpisywaną bezpośrednio przez osoby powiązane z producentem, to mamy do czynienia z mową potoczną. Nie umieszczamy już na monetach zapisu "sekretarzowania Gierka rok dziewiąty". Po antyku, przynajmniej jeśli chodzi o monety, takie odwołania nie były zbyt częste, albo w ogóle nie było czasu wybicia monety, albo sięgano po bardziej uniwersalną miarę czasu. Wyjątkiem są tutaj na pewno monety papieskie, ale poza tym nie przypominam sobie jakiegoś znaczącego państwa, które by w ostatnich stuleciach biło monety z odwołaniem do lat panowania.
Chyba po prostu zbyt często nie pamiętamy, że tzw. cywilizacja naukowo-techniczna to całkiem inna mentalność i różne jej oczywistości rzutujemy nieświadomie w przeszłość.

A szkoda, bo tracimy mnóstwo zdrowia psychicznego na drobiazgi. W czasach antycznych nikomu nie przyszłoby do głowy tracić życia na odwoływanie się do sądu o naliczone niesłusznie 17 groszy odsetek czy odsyłanie do sprzedawcy żarówek za 1,40 zł. Woleli by się położyć do góry brzuchem i napić dobrego wina.