By Joe Geranio
The first AV Quinarius that I know of is this issue from Caesar: Julius Caesar and M. Munatius Plancus.
Quinarius
end 46 – early 45, AV 4.01 g.
CAES
- DIC·TER Draped
bust
of
Victory
r.
Rev.
L·
PLANC
-PRAEF·VRB Jug.
Bahrfeldt
22.
Babelon
Julia
20 and
Munatia
3.
Cohen
32.
Sydenham
1020.
Sear Imperators
61.
Woytek
Arma et Nummi p. 558.
Crawford
475/2. The gold
quinarius
(half
aureus
) was first struck by
Caesar
in 45 BC for his Spanish triumph. It was reintroduced by
Augustus
and like its equivalent in silver was coined only intermittently and in limited quantities.
For the last few years I have been studying the Quinarii of the Julio Claudians including the AR (silver) of Octavian and Augustus as well as his gold. I look for legends or reverse type , usually of victory I have never seen before. I have been looking at what I have regarding Claudius and ran across this wonderful issue that is UNPUBLISHED.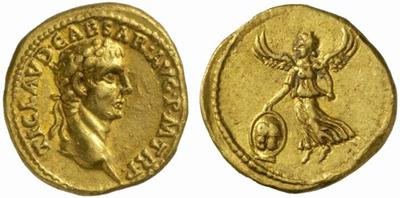 Claudius. AD 41-54. Quinarius circa 41-42, 3.96 g. TI CLAVD CAESAR AVG P M TR P Laureate head r. / Victory flying l., holding shield inscribed OB/CI in her l. hand. RIC -. BMCRE -. Cohen -. BnF -. Vagi 585. (Image courtesy Numismatica Ars Classica)
Among the consistent rarities of Roman Imperial coinage is the quinarius, be it gold, silver or billon. The denomination originated early in the Republic as half of a silver denarius, and re-emerged under Augustus as an Imperial denomination for both gold and silver, which leads some researchers to refer to them, respectively, as quinarius aureus and quinarius denarius. Gold quinarii of Augustus and Tiberius are rare, but occasionally are encountered. The same cannot be said of the remaining Julio-Claudians: quinarii of Caligula, Claudius and Nero are very rare. This particular coin seems to be unique, as other published examples - also from his accession year only - depict Victory seated or standing, accompanied with the usual inscription VICTORIA AVGVSTI. Though Augustus had struck anepigraphic gold quinarii at a Spanish mint nearly sixty years before, the flying Victory seems to have no prototype for this denomination. (noted and saw a Vespasian quinarius with Victory advancing?)
Vespasian Quinarius 74, AV 3.61 g. Quinarius 74, AV 3.61 g. IMP CAES VESP AVG P M COS V CENS Laureate head r. Rev. VICTORI – A – AVGVSTI Victory advancing r., holding wreath and palm branch. Cohen –, cf. 613 (silver quinarius). BMCRE –, cf. 142 (silver quinarius). BnF –, cf. 116 (silver quinarius). RIC –, cf. 78 (silver quinarius). Leu sale 2, 1972, 378.
I found this odd, for all the quinarii of Claudius that I have seem are either seated on globe on standing with globe? This reverse with no inscription and shield inscribed OB/CI caught my interest to say the least? Here is a reference photos I have and on it the 2 specimens we have victory seated and standing.
SEE THESE ISSUES BELOW CLAUDIUS 1 (1a and 2a): These issues are extremely rare!!
There should be RIC 17: Claudius. AD 41-54. . AV quinarius. Struck AD 41-42. TI CLAVD • CAESAR • AVG • GERM • P • M • TR • P, laureate head right / VICTORIA - AVGVSTI, Victory, draped, seated on globe holding wreath in both hands. BMC pl.33, 24; RIC 17.
There should be RIC 18: Claudius. AD 41-54. AV quinarius. Struck AD 41-42. TI CLAVD • CAESAR • AVG • GERM • P • M • TR • P, laureate head right / VICTORIA - AVGVSTI, Victory, draped, standing r., foot on globe, holding wreath in both hands. BMC pl.33, 23; RIC 18 SEE: http://www.ancientcoins.ca/RIC/index.htm
PS: There is no Neronian Silver Imperial Quinarius to my knowledge and folks keep running across this and other issues like it in silver and are confused. The silver is confusing to some, even if quinarius is stated in description.
http://www.harvardartmuseums.org/art/180655. The Neronian issue from http://www.antiqva.org/Data%20Box/Monete/Dettaglio/nero.htm (look for Nero quinarius) I get inquiries from folks thinking this is an imperial quinarius, it is not, here is the correct description for such a coin: http://cngcoins.com/Coin.aspx?CoinID=158754
MISTAKEN TOO MANY TIMES FOR SILVER IMPERIAL NERONIAN QUINARIUS
CAPPADOCIA, Caesarea-Eusebia. Nero. AD 54-68. AR Hemidrachm (15mm, 1.82 g, 12h). Struck circa AD 58-60. NERO CLAVD DIVI CLAVD F CAESAR AVG GERMANI, laureate head right / Nike standing right, right foot on globe, inscribing shield set on knee. RPC I 3646; Sydenham, Caesarea 83.

This has all the traits of Roman Imperial coinage and is the only known example as far as I know. WONDERFUL ISSUE!
Quinarius circa 55-56, AV 3.83 g, 7h. NERO CL DIVI F CAES AVG P M TR P II Youthful bare head r. Rev. VICT AVG Victory, draped, alighting left, holding round shield in right hand. RIC 10, BMC 11.
>
References:
Julio Claudian Iconographic Association- Julio Claudian Quinarii Photo set (Joe Geranio) - http://www.flickr.com/groups/1757091@N21/
BMC 6. RIC 5.
Also see:
Bendall, Simon. "A 'new' gold quinarius of Caligula" in Numismatic Fine Arts Quarterly Journal Mar. 1985, no. 29, p. 1-2.
Geranio, Joe. "Portraits of Caligula : the seated figure?" in Celator Vol. 21, no. 9 (Sep 2007), American Numismatic Society - http://donum.numismatics.org/cgi-bin/koha/opac-detail.pl?biblionumber=150976.