Recent Additions to Forum's Shop
51
on: Yesterday at 02:56:41 pm
Started by quadrans - Last post by quadrans
Hmmm
Q.
52
on: Yesterday at 02:48:49 pm
Started by quadrans - Last post by quadrans
Very nice Q,

I missed this one on sale, i am happy it landed in good hands.

Best

Eric

Hi Eric
Thank you ..
Q.
p.s.
I hope your hand are also a good hand ......
Q.
54
on: Yesterday at 02:43:31 pm
Started by quadrans - Last post by quadrans
Congratulations for such a rare and interesting acquisition quadrans. It makes me wonder why a caduceus was used on the reverse.

Around the time of Hadrian the public baths cost about 1 quadrans for a man and 2 quadrantes for a woman. In Pompeii a surviving advertisement states the price of a cheap wine was 1 ass or 4 quadrantes. So the common people would be exchanging a lot of these coins for minor every day goods or services.

In later Antiquity the caduceus became a symbol of commerce and negotiation. The balanced form of the symbol reflects the ideal of a balanced exchange for mutual benefit.

So the intention of the symbolism on the reverse might be to remind the users of the coin that they are living in an empire where goods and services can be fairly exchanged, and who can they thank for keeping this desirable condition in place?

The portrait of their bearded emperor on the obverse is there to remind them.

Best regards,
Steve


Hi Steve,
I always enjoy your comment and interpretation...
Thank you
Regards
Q.
55
on: Yesterday at 02:42:01 pm
Started by laney - Last post by tjaart
I have to agree, Diocletian with Tyche on the reverse. Issued in year 3 (Lr) of his rule.
56
on: Yesterday at 02:39:03 pm
Started by seuk - Last post by seuk
#336 - Reverse match and obverses of similar design.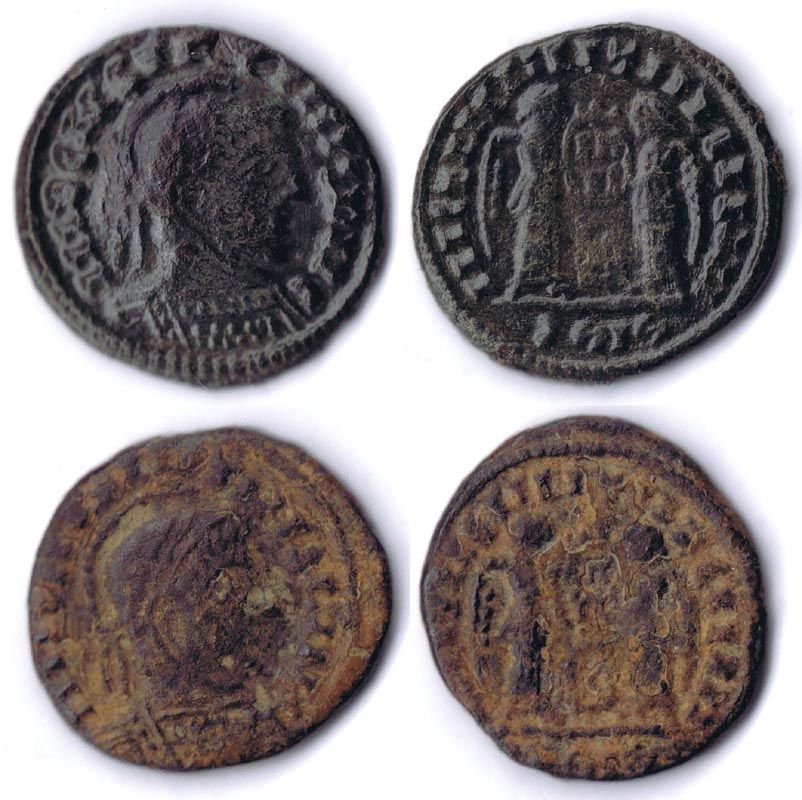 57
on: Yesterday at 02:37:23 pm
Started by Cassius - Last post by Cassius
Wow@! Thanks for the list. I actually own the antique Edwards book but it is mostly about the medieval period and not very systematic; more or less a collection of 'interesting facts'. The Taylor book at the bottom of the list looks like it is the most current and I will see if I can find a copy. Thanks,
60
on: Yesterday at 02:01:53 pm
Started by okidoki - Last post by okidoki
Oh no,

I will search reports thank you

Best,

Eric
Recent Price Reductions in Forum's Shop